Basic Info
Model No.: TEREX tr60 heavy duty truck, TR60 heavy duty truck
Product Description
  heavy duty  truck for sale for iron mine and copper mine,gold mine
TEREX 60ton off highway rigid tuck with CUMMINS engine and ALLISON transmission
1, compatitive price and good quality
2,more than 5 years after service
 Load Capacity: 55T Tire
Certification: ISO
Design: Radial
Condition: New 
Truck Type:Dump
Fabricated Full box section frame with integral front bumper and
closed loop crossmember. Crossmember and rear torque tube and
tail seat connections with frame rails are high strength alloy castings.
Standard: Front and Rear 21.00-35(36PR) E-4
Rim Width .......................................................................... 15 in
Consult tyre manufacturers for optimum tyre selection and correct
t- km/h (ton-mile/h) capacity for application.
SERVICE-Dual shoe external expanding, mechanically actuated by
air pressure. Independent front and rear systems actuated by single
treadle valve with auxiliary manual control. Operator controlled wet /
dry road valves reduces front brake pressure 50% for improved control
and slippery conditions.
Front Linings: Diameter x width .............................. 660 x 127 mm
................................................................. (26 x 5 in)
Lining area: front axle ........................................ 3 980 cm 2 (617 in 2 )
................................................................. (26 x 5 in)
Rear Linings: Diameter x width ............................... 660 x 254 mm
............................................................... (26 x 10 in)
Lining area: front axle ..................................... 7 960 cm 2 (1 234 in 2 )
Total Lining Area: ........................................ 11 940 cm 2 (1 851 in 2 )
EMERGENCY-Warning light in cab indicates when air pressure drops
below 550 kPa(80 lbf/in 2 ). Front and rear brakes automatically actuate
if ystem air pressure falls to 310 kPA(45 lbf/in 2 ).
Air compressor capacity:.................................. 8.8 litres (12 ft 3 /min)
Total safety brake air reservoir capacity ............ 81 litres (4 950 in 3 )
PARKING-service brakes act as parking brakes when applied by
manual control valve on the instrument panel.
RETARDATION-Application of non wearing hydrodynamic retarder
ntegral with transmission.
Independent hydrostatic steering with closed- centre steering valve,
accumulator and pressure compensating piston pump.
Accumulator provides uniform steering regardless of engine speed. In
the event of loss of engine power it provides steering of approximately
two lock-to-lock turns.
A lowpressure indicator light warns of system pressure below 83 bar
(1 200 lbf/in 2 ). Steering conforms to ISO 5010, SAE J53.
Steering conforms to ISO 5010, SAE J53.
Maximum Tyre Steering Angle.................................................39 ?
Two body hoist cylinders are mounted between the frame rails. Cylinders
are two-stage with power down in the second stage. The body hydraulic
system is independent of the steering hydraulic system.
System Pressure........................................... 190 bar (2 750 lbf/ in 2 )
Body Hydraulic Pump Flow Rate
@ 2 100 rev/ min.............................210 litre/ min (55.5 US gal/min)
Body Raise Time........................................................... 13 Seconds
Body Lower Time ............................................................ 9 Seconds
Longitudinal 'V' type floor with integral transverse box-section stiffeners.
The body is exhaust heated and rests on resilient impact absorption
pads full time exhaust is optional.
Body floor wear surfaces are high hardness abrasion resistant steel of
yield strength.
ROPS Cabguard SAE J1040 Feb 86. ISO 3471
Thickness: Floor .................................................... 15 mm (0.59 in)
Side...................................................... 10 mm (0.39 in)
Front, lower .......................................... 10 mm (0.39 in)
Volumes: Struck (SAE) ......................................21.5 m 3 (28.1 yd 3 )
Heaped 2: 1 (SAE) ...............................27.5 m 3 (36 yd 3 )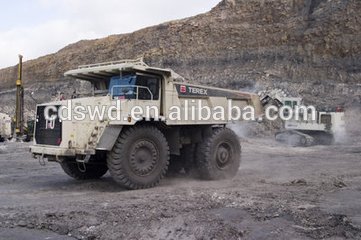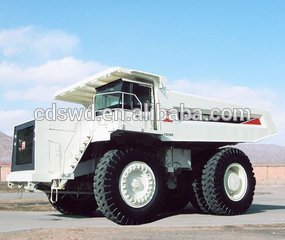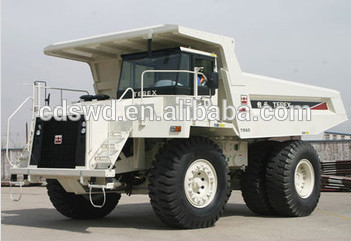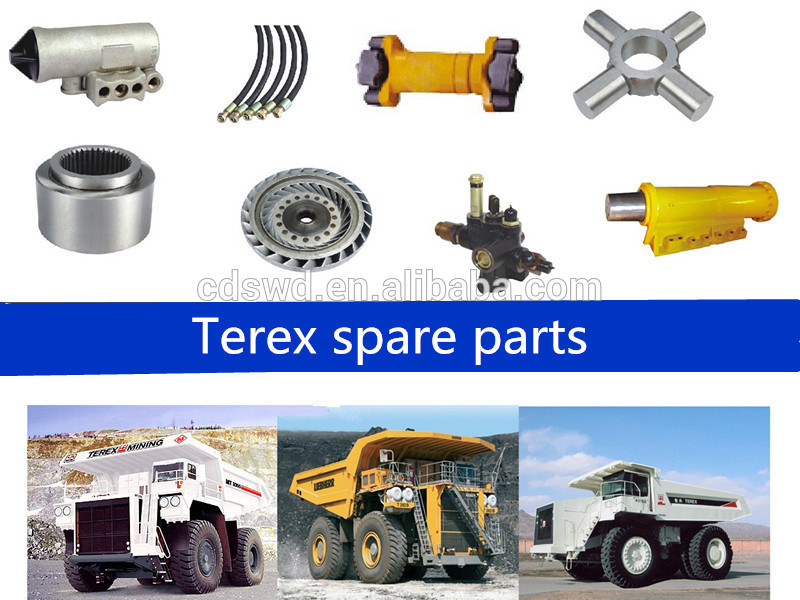 since the company's establishment our products are famous for good-qualityand profession.The advantages as follows:
 1.Applied to Terex self-dumping tracks  
2.High Quality and Reasonable Price for terex tr60  heavy  duty truck ;
3.Quick and Safe Delivery
4.Many Different Kinds of Products, In the line with the TEREX global standards.
5.Sample Order Accept
| | |
| --- | --- |
| Packaging Details: | according to customers' needs |
| Delivery Detail: | 30-35days after confirming the order |

1.We have more than 7 years experience in off-road  heavy  duty truck
2.Excellent quality control is one of our main principles
3.Various style for each products and completely series pneumatic products for you to choose 
4.Sample order & small quantity order is ok
If you have any question, please get in touch with us promptly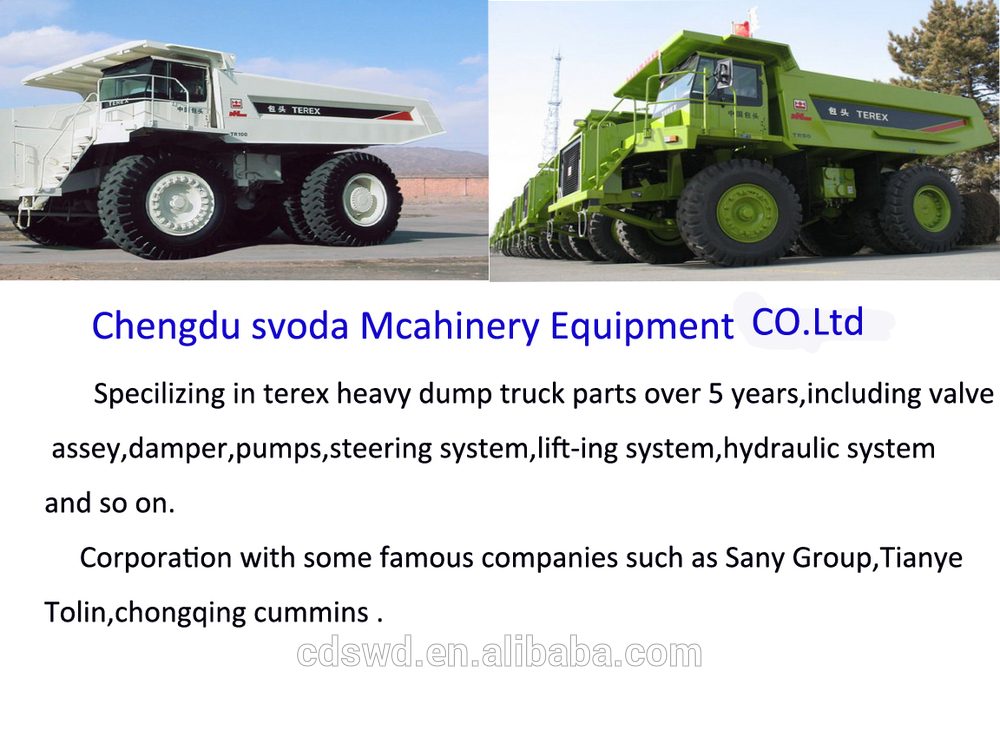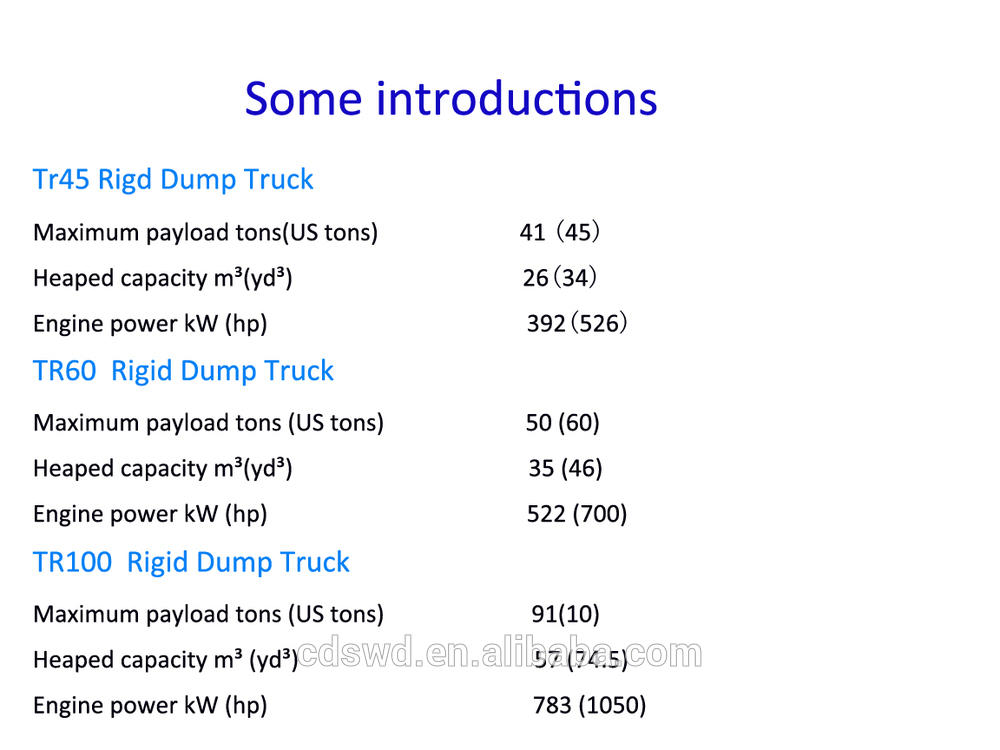 Dear customers,welcome to our website.
Because there are thousands of products, in order to offer you good service, please kindly tell us the P/N(Part Numer). If you have no P/N, you can aslo tell us the ESN(Engine series Number) or vehicle type which you can find on nameplate of Cummins engine and Terex vehicle.
Product Categories : Terex Trucks